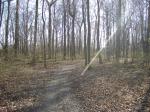 I usually keep things bottled up then explode later. Since the diary thing ended in college, i'd thought I would write a blog. I am an adventurous little spitfire who has touble keeping her thoughts to herself. The boyfriend doesn't like it much but I was told to always tell the truth,lol. I went to college to become a park ranger so if there is an opening in the upper northwest area I am available. right now I am working at a plant and tree nursery. It's okay but I want moe.
Subscribe to Blog Posts by this Member
Published 07/4/2009
Rating:



People spending more than they have and the disrespectful children of today.
Published 06/30/2009

Unrated




I am turning a new leaf.
Published 06/29/2009

Unrated




Something new is happening to me, I think. I'm not sure, I am going to wait till next month to find out.....