Blog4Change.org Community Action
When a member of our community comes up with a brilliant idea that can help bring positive change to ourselves and to others we feature it here so that the entire community can get involved in the goodness. The hope is that these small acts of kindness that one person does multiplies when hundreds of thousands of people do it.
Below are the latest community projects.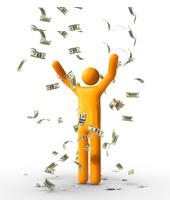 In the next four weeks we need to keep this site focused on what it has stood for from day one, which is contributing to changing the world by helping people, by being more selfless.
Directions:
The project for December is to give away $10 per week, or whatever you can afford per week, until the end of the year. Whether it's paying the toll for the car behind you, adding an extra $10 to a waitress' tip, leaving $10 on the floor in a local laundromat, paying for some groceries of the person ahead of you in line, or giving away your money in some other original and creative way, it could really make someone's day.
You decide the way in which you want to give, but the idea is to give away your money. As a result, you will make others feel grateful, and in turn you will feel a sense of happiness that you would not otherwise feel by attempting 'self help' type psychological treatments.
The community here at Blog4Change, those that blog, those that comment, and you lurkers who stop in for daily inspiration, YOU will determine the success of the community project for December, and the ultimate destiny of our site. If you have not participated in our previous community projects, this is the one where you should start.
We ask you to share your ideas on how we can make this Community Project the best one ever. Tell us how you participated by posting a blog, title it "December's Project", and share with the rest of the community how you made a difference in the lives of others.
"If you can't feed 100 hungry people, then feed 1." - Mother Teresa
On behalf of all of us here at Blog4Change.org, we wish you a Happy Holiday Season and A Peaceful & Giving New Year!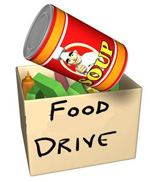 With the world economies in crisis newly unemployed workers, working poor families, and seniors on limited incomes are living at the margins of poverty. People like you and I, some of your friends and neighbors who you think are doing okay, actually have to choose daily between paying for food or paying for the rent, between paying for food or paying for the utilities or heating fuel, between paying for food or for the medicine needed to survive.
Food Stamp benefits, income deductions and other qualifications for federal nutrition assistance have not kept pace with inflation. It is unimaginable and outrageous, but also very true, that there are millions, not hundreds, not thousands, but millions of people in well developed nations, including the US and the UK - not third world countries - that go hungry, starving, each day.
Therefore, our Community Project for the month of November, a time of thanksgiving, is to come to the aid of those families who work hard but still struggle to survive.
Directions:
Google - (Your Town) food bank - and search for places you can go to donate food. Check with your local churches/organizations during November, most collect food for local food banks during the holiday season. Ask what types of foods are needed then donate to these worthwhile charities.
WE change the world, our ACTIONS change the world. Wishing things were better, having sympathy for those less fortunate, and thinking that others will help is just not good enough. We must remind you that we are more than a blog site for writing and sharing goodness, we are a blog site for DOING. We can't change the world unless we decide to make an active change in our own lives to HELP others no matter how small the action. WE MUST MAKE AN EFFORT or nothing will change!
You can take comfort in knowing that with donating a mere can of food, or a simple box of cereal, you will have helped at least one person to eat today. We can do this all year, not just during this month's Community Project. So let's get out there and make a difference, let's be a part of ending hunger, and let's start today!
On behalf of all of us here at Blog4Change, we wish you a very happy, and humble, Thanksgiving Holiday.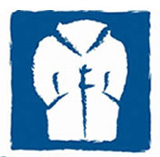 During the month of October we will be donating new or gently used coats which will support local agencies listed in
www.onewarmcoat.org
. Think of any outer wear that will keep someone warm—a coat, sweater, jacket, sweatshirt. Also, if you have any hats or mittens, they would be appreciated too.
To participate in this project go to
One Warm Coat
and enter your zip code to find an agency near you that is collecting warm clothing.
I think we can all do our share in keeping one person warm this winter. I'm sure you all have a coat that is gently used or maybe a family member has one that you can donate to help those less fortunate.
A Good Idea!
Post a memo in the break room at your workplace asking others if they have a coat to donate. State that you will be going to your local Charity on Saturday, and all who have a coat to donate please bring in by Friday. Imagine, instead of keeping one person warm this winter you will have made the difference in so many more lives.
At Blog4change we don't want to just blog about doing good we need to actually do good to change the world we live in. I hope we can all respond to this task, that will make a big difference in the lives of others.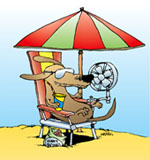 July is the first month that the community at Blog4Change.org will be focusing its efforts on helping out our furry little four legged friends. Being selfless isn't just about helping our fellow humans, it's also about helping out our beloved cats and dogs who don't have the means to fend for themselves. Therefore, our project this month is to bring a bag of dog/cat food, to the local Animal Shelter. One bag of food, that's it.
Due to the economic hard times, with many barely able to feed their families and so many facing home foreclosures, sadly people are no longer able to care for their family pets. Our local Humane Society/Animal Shelter facilities are filled to capacity. This makes it a perfect time for Blog4Change bloggers to make a difference in helping such a wonderful cause.
Directions for Helping
- Google 'Animal Shelters' or 'Humane Society' of ____ whatever state you live in. You will get the address and telephone number to your local shelter. Give them a quick call and they may be able to tell you what kind of food they are most in need of. The Humane Society and some shelters are also set up to take monetary donations on line and your donations are always tax deductible, so feel free to donate money to help out the cause as well.
Our friends who work at these shelters are volunteering their time and they spend countless hours serving their community. The least we can do for them is provide them with the tools they need to help keep alive those hungry eyes.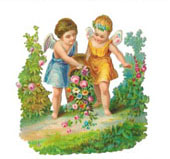 Thanks to one of our first members,
Stephanie
, a young lady who loves to bowl, play soccer, and volunteer, we have come up with the 'Gardening Angel' project.
The idea is to help someone in your neighborhood, who may not be able to themselves (because of poor physical health, or other reasons), clean up their garden so that when they come in and out of their house, or when they look out their window, they will be pleasantly comforted by seeing lively, colorful flowers and/or fresh green earth.
It will only take an hour or two, one day a week, as Stephanie and her friends picked Thursday afternoons. You can post an ad at your local place of worship, at the supermarket, or even at a Doctor's office waiting room, telling people the "Gardening Angels" will be willing to donate a few hours to clean up a yard in need. They may have a rake and garden tools for you to use, and may even be willing to purchase flowers for you to plant, or you could use your own tools and purchase flowers for them on your own if you can afford it.
For those that can't afford it, maybe you can contact your church rosary society, or a mens/womans club and ask for help. Local organizations raise money all the time for projects such as this, they will be happy to give to a good cause.
You can also post on your ad that all that is required is a can or two of food for the local food bank. This would help two groups at the same time, those in need of lawn/garden care, and those in need of food to live.
Join our community project for June, all you need is some sunscreen, gardening gloves, a rake, and a little energy!
Please
let us know
if you have participated in our community project. Leave us details of what you did, how you think it helped, and also, how it made you feel.