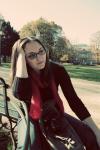 Bliss, or eternal happiness, is relative to your own personal experiences, sacrifices, and loved ones around you. Your bliss could be jogging, writing, blogging. It could be your husband, mother, brother. Anyone can find bliss anywhere, as long as they're looking for it and praying for it. Bliss is relative. I'm Bliss Goodloe and I'm starting this blog in an attempt to maintain my own eternal happiness and share with everyone the struggles I'll be going through while my husband is deployed.
Subscribe to Blog Posts by this Member
Published 02/8/2010
Rating:



Looking to help support your troops and send them care packages??? Check out this Blog for more information on a platoon of soldiers now serving overseas in Afghanistan and how you can help!
Published 01/13/2010
Rating:



It's been a little over a month since my husband has left for his deployment to Afghanistan. I hear from him once a week or so and though I know he is doing good, every wife worries. To keep myself busy and to help forget about the worrying, I've taken it upon myself to start a project.