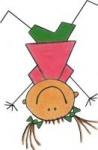 I am 12 years old and a 7th grader at Ridgewood Elementary School. I also attend CCD, my girlfriends and I have to do community service, and hope to be able to share what we do, and get ideas here. If everyone did community service this world would be a better place!
Subscribe to Blog Posts by this Member
I really didn't want to go, my Mom sort of made me go, but I'm glad I did, because it made me feel good to help someone in need.
I think every school in the United States should ban throw away containers, cans, sippy drink, bottles!