THE UNFORGETABLE SLIM WHITMAN
John Kitsco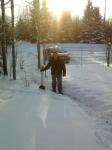 If you liked this post, check out more from John Kitsco.
Slim lost his wife of 67 years from kidney failure...
Amazing, but in 2010 Slim released a new album called Twilight on the Trail, his first album in 26 years...and ironic, the late Michael Jackson called
Slim Whitman one of his ten favorite vocalists. And Paul McCartney liked the idea of Slim Whitman playing left handed...And since 1957
Slim has lived quietly in Florida, in a suburb of
Jacksonville.
Slim Whitman Sir, We salute you and you will always be one of my favorite vocalists....