this is the first day of my life ≥
Published 04/22/2010
Rating:
To see the world.. in a grain of sand ☺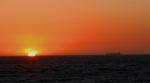 If you liked this post, check out more from To see the world.. in a grain of sand ☺.
I heard a news conference today about a distant land which is crippled by war and famine. I felt apathy. I nibbled on my Doritos as I saw scenes of mutilated bodies and twisted limbs. I switched over to comedy central to watch some cheesy sitcom. I equally felt apathy.
I looked out my window from the 6th floor I could see the whole of Dublin. It was in my hands the liffey, sandymount, o'connell street, Christchurch, the phoenix park. There was a whole city out there waiting to be embraced, a whole collection of human experience to be embraced for good and bad.
With that I put on my trainers and walked down the stairs. Stepping out into the light of the day. I felt alive. goodbye apathy hello humanity. Please to meet you hope you know my name.