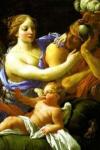 I am a recent graduate of the University of California, Berkeley, committed to fighting and ending modern day slavery. I have participated in various organizations that have fought oppression and injustice, ranging from anti-racism to anti-war. I have also created a Latino Institute to support the Latino community, and organized and hosted various human rights events and workshops on campus and in my local community.
Subscribe to Blog Posts by this Member
By Bona Dea
Published 07/15/2009
Rating:



In essence, I see the Tango as much more than a dance. When a song by Astor Piazzolla comes on, and the room fills up with the energy of each couple, to watch and to dance this beautiful dance is truly overwhelming. I feel as if all my distractions and worries fade away and I am free. To find this kind of passion for me had been a long time coming, but now that I have it, I never want to let it go...
By Bona Dea
Published 07/14/2009
Rating:



All this I hold true to my being. I am the "good goddess", an abolitionist, a womanist, and an activist. I am many things with many contradictions, but one thing I am not is inauthentic. Thus, this blog will be a reflection of all that Bona Dea is and more...all that I am and stand for. I invite you to come along with me on this journey!