BRYAN EDEN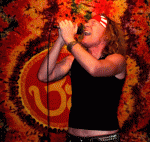 If you liked this post, check out more from BRYAN EDEN.
DEAR FRIENDS
- The world is hungering, thirsting and dying.... for authenticity! For the liberating vibration- the soul music- of your fearless self-expression.
Everyone wants to let go and BE THEMSELVES. More than anything else we desire, we desire that!
The person who surrenders and blazes forth as completely him/herself will always find the sun of joy within. And great love and support from the world!
Because in their trust of their own being they give strength to the living spirit in all of us- to everyone who longs to let go of their fear at last.
And scream from the beauty of their souls... THIS IS ME!
So don't be concerned about whether who you are/what you want/how you move meets the current trends.
Throw your body and soul forward into the great stream of life- and you will be received.
The Eternal Trend is for the one who inspires us to happily BE.... and be free....
That One is YOU....
LOTS OF LOVE- BRYAN