MUSIC BY JOHN KITSCO AND KOLE SCHMIDT
John Kitsco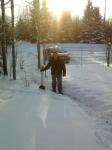 If you liked this post, check out more from John Kitsco.
we have two songs to start out with...and they are both available on REVERBNATION, with 50% of the profits going to WORLD VISION. And I wish and hope more musicians select a charity of their choice not only to get their music out to the world but to basically put something back - and I firmly believe it is our duty as citizens of planet earth to do our best to leave some good behind, put something back, create some wealth that shall be shared with those less fortunate, for the hungry, for the homeless...
We have in our hands, in our hearts -the ability to always move and keep moving...
forward, learn something new, even change our ways with the intention of helping our fellow man, however we determine is the right road, the right path for us...
And I hope my future lyrics and songs will lean towards giving this world hope. And music seems to be able to do that...
And certainly wishing Kole Schmidt good fortune in this new year - with lots and lots of competition out there....still, for each of us, there is a fan or two waiting and cheering for us, for you...so whether you have a small or large audience, the key is to make the type of music that comes from within your heart - and yes, thats where some of the finest music comes from....and to be able to share the music and the earnings from the music, gosh -thats even better....
Play on fellow musicians!!