STARRING IN YOUR FAVORITE TV SHOW - YOU!
John Kitsco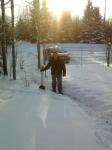 If you liked this post, check out more from John Kitsco.
Well, thats just the way it is sometimes. You are the one. The one to figure out how to find the way out of the woods, the one to decide whether (or not) to rescue a person or even a dog. Yes, you are the one at such times. And the thought that you cannot do it - does not even enter your mind.
Did you ever ask yourself - how did I get such power, such strength, at a moment of weakness for someone else. A life or death situation and here is little old you deemed to be the authority. Pretty amazing!? But maybe not - because we simply knew what to look for, how to respond. We were suddenly in our element. Yes - it was you. You were the one.
And we all wrestle with these things throughout our lives, what to do, how to do, when to do, where to do and sometimes we don't even need to ask any of this but simply move forward and ACT. Because it was our time to shine.
And thats not a bad thing. To shine. To be the chosen one even for a minute. It kinda makes you feel good. You suddenly did something right.
But the truth is, you were and you are never alone during this baptism by fire so to speak. You were being guided by a hand, by a force that each of us needs to work with, to explore more often in our lives, and that is, plain and simple, the hand of God.
May this be your time, this year, this day, this moment and may it be mine. Our time to learn, our time to shine.
They say the good Lord works in mysterious ways.
I know that this is my time to join his team, and learn more about how it is I can shine, when I least expect to.