SO YOU REALLY THINK YOU HAVE A CHANCE WITH A LOTTERY
John Kitsco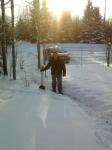 If you liked this post, check out more from John Kitsco.
Well, Author and Finance Expert Kelly Keehn (who has a new book called A Canadians Guide to Money-Smart Living) - has this to say about investing in the lottery: "For each $2 ticket you purchase for Lotto 649 the odds of becoming a millionare are approximately one in 14 million. And your odds for LottoMax? Well, for $5 you have a one in 28 million chance of winning $15 million", and Kelly goes on to say..." Even if you bought 50 tickets a week you're only likely to win once in 5000 years. You're more likely to be bitten by a snake (one in45,000 chances) or killed by lightening (one in 56,000 strikes)."
And I quite agree with Kelley when she tells us that self made millionaires took time to construct a solid financial foundation....over years, decades or even an entire lifetime. Kelley tells us that the rich are good at earning money, saving money, investing wisely and protecting what they have!!
So what is your plan? What are your resolutions to becoming a better financial planner for your family? Or are you going to break the bank and simply toss the whole lot of your hard earned bucks into another Lottery Ticket?
Well, I sit on the fence a little on this one. I agree, if you don't take a chance and buy a ticket, you are not in the game...so, perhaps in the final analysis you would not be hurting anyone with an occassional purchase of a lottery ticket, just reminding yourself that you likely shall not win and whether you do or not the sun shall still set and rise again the following morning, for rich or for poor....