GENTLE GIANT, MR. DON WILLIAMS
John Kitsco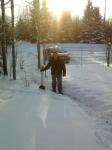 If you liked this post, check out more from John Kitsco.
singer-songwriter, and such a shame that most of the country music of today does not even come close to the simplistic beauty and honesty of songs
written by Don. I was shocked to call a local radio station and request an older song and told that - sorry, we don't play those old songs anymore!?
Consider, from 1974 to 1991 Don Williams had a whack of country hits and probably only 4 out of 46 singles did not make it to the top. Not too shabby indeed. Consider further, some of the other artists that have picked up music by Don Willams, artists such as Kenny Rogers, Keith Urban, Charlie Pride, Sonny James, Allison Krause, - even Eric
Clapton. Thats gotta say something incredible about the singer-songwriter talent of Don Williams, who started out at age 3 - trying out for
a talent contest. Perhaps its just the sheer simplicity and honesty of his creations/his songs that seek to catch the attention and heart-beat of the listener.
Whether spending some quiet time down on the farm or singing in faraway places in this world, Don is quite at home. Born in 1939 - perhaps the years have slowed Don down a little but, the fans
and there are many, will always acknowledge Mr. Don Williams as the Gentle Giant, telling another little story, sharing another precious moment in song...God bless and keep you Don. For you are truly our hope and inspiration....
Retired briefly in 2006 after the Farewell tour of the world, then coming out of retirement in 2010
we have a special place in our music library for this
legendary talent - Mr. Don Williams!!