Reflections of our world in 2012
John Kitsco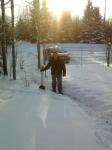 If you liked this post, check out more from John Kitsco.
Things you cannot possibly buy at the store. And so it goes, and so it goes, another year gone, another yet to begin and we somehow need to search our souls - for those very answers deep within.
Bless you all this Christmas.