WHY DO SOME PEOPLE CHASE ANIMALS WITH SNOWMACHINES
John Kitsco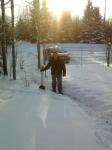 If you liked this post, check out more from John Kitsco.
But today, in my drive out in rural Alberta I spotted a coyote in the ditch and you could clearly see the snowmobile tracks up to him and around him. Someone used the poor creature for recreational
purposes, breaking the back legs and leaving the animal alone. As night would fall the coyote could be destroyed by a pack of coyotes, perish from the cold, etc. The point is, the operator of that snowmobile was doing harm to mother nature, even though the coyote might be considered a nuisance type of animal by some.
I asked one farmer to please call fish and wildlife so authorities could deal with this situation. And am unsure whether (or not) this happened.
As I stated at the start of this blog, it would be a daunting excercise to protect the wilderness, whether it be Montana, Alberta, Quebec, Saskatchewan or elsewhere...so much depends on good old common sense. And it was surely lacking by the person or persons who took it upon themselves to chase down and harm a lonely coyote....
And if there is some truth that what goes around comes around, perhaps in ways unknown to those persons, justice shall prevail in the end....
and hopefully authorities can send a clear message to those who operate snowmobiles to please show some respect for wild creatures and private farms
if they wish to continue operating those machines...