CHRISTMAS, AND SMALL CHILDREN
John Kitsco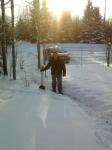 If you liked this post, check out more from John Kitsco.
There are children that will spend this time of the year in a hospital, There are children that have been
ripped from the arms of Mom and Dad by an accident, by an illness or more sadly by an event
that happened and should not have happened...and I do recall we always worried as Moms and Dads - about our little ones making it home safe and sound to and from school. Our kids often walked a good number of blocks, as we did, in cold weather as winters do get chilly in most parts of Canada this time of the year.
The words have not changed. Safe. Warm. Loved.
And so easy to elaborate on the importance of any one of those words. But sadly, impossible to know that everything will go smoothly for all the little people...for some, it may not - and those parents can only resign themselves to knowing the little feet have walked into heaven where they are truly in the company and glory of angels. Safe. Warm. Loved.
So with thoughts in mind this time of year for little people the world over, let us remember the joy and importance of once being small and so needing an embrace, and the loving words only Mom and Dad can provide....
Bless you all. And mostly, Bless the Children.
And for those little people who have left far too soon we pray....that the bright stars of another Christmas may shine upon them & the memory of them and just having that memory will make Mom and Dad rejoice in the love of those glorious moments of being little people....throughout this often sad place, called Earth...
Peace and love to you all...