PACK YOUR GEAR, ITS THE END OF THE WORLD (some say!!)
John Kitsco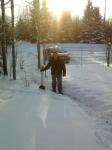 If you liked this post, check out more from John Kitsco.
End of the world for a few. And of course we are always saddened to lose friends and loved ones. That is a tender and gentle time in our lives. Yet the precious memories stay in our minds and hearts.
Back to those who are hiding in the woods waiting for the world to end - could it not be better to make oneself useful and do some good? What is the point thinking about "the end" when in fact even with death, there is a new beginning. The road of life and hope.The road of changes and joy. This Christmas and the next and the next. Buy a toy for a small child, a gift for a senior, shovel the walk for a neighbor, offer someone a ride. There it is, but a partial list of all the good we can do...
And we can only do all the good things by our very belief that life shall continue, until such a time that our God (whatever we conceive Him to be) will continue to be there for us, until we are called to be somewhere else.
Thats the kind of end that I perceive. Bless you all and to each and everyone of these amazing blog writers on this site, I say Merry Christmas and best wishes for the next year and the next and the next...