CHUCK BERRY, AND MUSIC THAT LIVES FOREVER
John Kitsco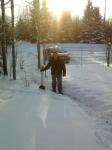 If you liked this post, check out more from John Kitsco.
One of a kind musician. So ironic that Chuck worked at an automobile assembly plant. Success came early around age 30 after Muddy Waters suggested to Chuck that he contact Chess Records. And man oh man, are we glad he did...
Without getting into some of his personal problems and just like the rest of us good folks he had a few, but the music certainly is what he enjoyed the most
with songs like No Particular Place to Go, You Never Can Tell, Roll over Beethoven, Maybellene
each and every song with that distinctive Rhythm and Blues style. Just gotta love each and every one!!
Chucks Dad was a Deacon at a local Baptist Church and his Mom a certified public high school principal, but this did not stop him from unfortunately getting into a little mischief...but he got through his problems and continued to make great music, and for a factory worker, and janitor
and person who served time....it was always the music that brought Chuck back to who he really was...and something else interesting was the fact that here was a young black man doing country music and his black audience making reference to Chuck as that hillbilly guy...but no matter...with riffs learned from T-Bone Walker and Ira Harris, his music took off - just made you want to jump.
And May 21, 1955 must have been great for Chuck because Maybellene was released and that song alone sold over a million copies. Not bad. Not bad at all...and strangely enough the British invasion and bands like the Beatles and Rolling Stones really liked the music of Chuck Berry and used some of his material. That alone must have put Chuck on Cloud Nine...maybe it was simply that folks could relate to his music - simple lyrics about cars and teens and ridin along in our automobile...
John Lennon once commented, that if you were to call Rock and Roll by any other name, you could call it Chuck Berry.
How about that!! We salute you CHUCK BERRY
and may you sir, Senior Citizen Chuck Berry continue to rock and roll as long as you able to...
and when you feel a little down for any reason, and happen to be in your automobile, just crank up an oldie but goodie of Chuck Berry... because I just know Chuck would like everyone to be happy...
and Eric Clapton remarked that Chuck laid the law down with his Rock and Roll...and who can dispute that....