Superbugs in hotels and motels in Canada
John Kitsco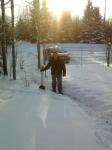 If you liked this post, check out more from John Kitsco.
and the extensive behind the scenes study of cleanliness of motel and hotel rooms in Canada, from coast to coast, you suddenly realize, its possible to stay a night and leave with more than your luggage...perhaps a superbug!!!
Several hotels and motels were found to have an antbiotic resistant bacteria, some around the sink, on the toilet seat, countertops and other places where you would least expect to find them.
Basically traces of Clostridium difficile - widely known as c-difficile and methicilin resistant
Staphylococcus aureus (MRSA) - PRIMARILY IN
MONTREAL, TORONTO AND VANCOUVER.
This could cause much grief to elderly people and those with a weakened immune system.
The worst bacterial hot spots were found in hotel rooms and the experts used an ultraviolet flashlight
and an adenosine triphosphate meter that measured
microbial contamination. And it was obvious when hidden cameras focused on maids doing the cleaning using the same toilet brush or rag to clean first the toilet and then the sink -quite disgusting...
and finding the worst areas were comforters, faucets,remote controls bed throws, bathroom sinks and toilet bases to be the very very worst.
It appears that inspectors are needed to check the work after its done, but before occupants come in.
The next person to occupy the room could be you or I, and we need to be concerned....
Ironic, there are really no guidelines presently and little in the way of inspections, perhaps only twice a year - cleaners need to be trained and observed, and if necessary fired and fined for such negligence. Our lives could depend on it!!