FOUR MORE YEARS WITH BARRACK
John Kitsco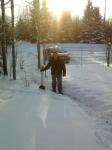 If you liked this post, check out more from John Kitsco.
(hopefully) make the right deals and rigs will start to move about. As for major pipelines, if they cannot move south or north, there is always the prospect of moving east. One way or another, the oil will flow, gasoline prices have dropped and the
bearded man will soon begin singing Christmas tunes. The cycle continues, even with some major changes, and the big boys keep reminding everyone to look at the big picture. See what the major players are doing. And they are doing much the same, trying to balance the books, make a profit and pick up a new account...and its not easy and nobody ever said that it was. But Obama is in office, possibly he will create a little excitement in how he decides to deal with us Canadians on the snowy side of the border. We shall see!!! Goodnight America and remember. we were and continue to be your cousins, if you want to see it that way....