Hiking in Grizzly Country
John Kitsco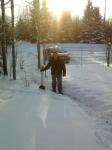 If you liked this post, check out more from John Kitsco.
This old cowboy was usually at the end with my loyal walking stick. Stopping to get photographs of the beautiful sage and the view of the Columbia River from higher elevations was magnificent. It was obvious tree planters had probably been here considering this area was deemed a nature trust region of British Columbia. The nature trust of British Columbia is actually a charitable organization dedicated to conserving areas of ecological significance.
It was getting closr to dark as we returned on the same trail, noting deer resting in the woods, time of the day when animals come out of the woods, some heading down to the stream nearby for a drink. And a good time to leave these woods - taking back images in our mind of the immense beauty and quiet that abounds in the Rocky Mountains...not to forget to mention how such a hike rejuvenates the body, muscles not used for a while got a good workout...
All these years we have come back and hiked in the Rockies and mostly in the beautiful Columbia Valley, each time a new experience and we are always better people for the time spent with mother nature, who never dissapoints...even with the sudden changes in the wind and winter gradually reaching its grasp into the lower elevations. Time to sit back and ponder how thankful we are to have access to these backwoods of beautiful British Columbia....