SOME TIME SHARES ARE AVAILABLE FOR ONE DOLLAR
John Kitsco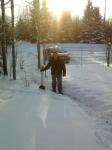 If you liked this post, check out more from John Kitsco.
purchased their time share for $4,000 and now want a buck, for someone to take it over, due to their health concerns...
Many American families are feeling the pinch and anxious to unload timeshares. Are timeshares heading for a freefall?
Well, we certainly enjoy our timeshare in beautiful
British Columbia. We purchased for the enjoyment and not as an investment. Timeshares as a rule are not a very good investment. We enjoy the seven hour drive and find the warm side of the rockies to our liking. Also, the Columbia Valley is such an interesting place to explore. We simply avoid the tourist traps and try not to shop at some small grocery stores that charge double what we would have to pay back home.
An owner advocacy group called Timeshare Users Group feel that this is the about the worst time to invest in a timeshare. I think the opposite, this is an absolute great time to pick up deals as long as you stay with the idea that your value is in using the timeshare - not trying to profit from it.
But do check all the facts and figures, read the agreement and perhaps go into a timeshare with a family member or friend to keep the maintenance costs down. And most important, take the time to relax and enjoy your timeshare. Because that is the real and true value of a timeshare, family enjoyment!! We have returned time and time again for 12 years now and each year find it as exciting as the year before...so for some, it may be the worse time to sell a time share but for others, its absolutely the best time to buy!