John Kitsco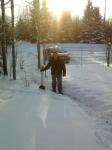 If you liked this post, check out more from John Kitsco.
mamals have their home, the grizzly, moose, elk
along with the wolf. And the cull planned for deer
has been put on hold at least for now. Some folks come out for the salmon run, others for an opportunity to ski or hike. Just perhaps to be in the presence of this region where indeed time seems to stand still. I love in particular the mornings, watching the mountains awaken under the blanket of mist and haze, noticing an occassional deer darting across the golf course and breathing in the fresh air. We are not here for any specific reason, but to simply be in the presence of the greatness of the rockies, the Purcell Mountains and the remarkable beauty of the Columbia Valley....and this in itself helps to restore the soul in its own quiet way....and we know, we shall return...