TOBY KEITH (How Do You Like Me Now!!!)
John Kitsco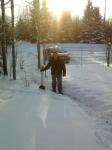 If you liked this post, check out more from John Kitsco.
Well, for most folks a layoff can mean devastation but for Toby Keith it simply meant that one door may have closed but another has opened. Now move fast forward to the year 1990 and here is Toby Keith feeling a little down and out about not only the oil industry, but also about his football career and his song-writing, that is until a flight attendant provides an executive with Mercury Records a copy of a demo/single called: Should've
been a cowboy - and in 1993 that tune moves to number 1, provides Toby with a music contract and the beginning to absolutely great things.
Now Toby promised himself and God that he would have a recording contract by age 30 and destiny would have it that way...but I think a lot had to do with the considerable song-writing talent that Toby has as well has his likeable manner. And even though his song How Do You Like Me Now failed to make the top 40 on the country charts, that song happens to be my favorite, and my wife gets a real kick out of that tune.
Perhaps some of us songwriters just still trying to climb the mountain eventually make it - we can mouth those words - How Do You Like Me Now....
Toby Keith knows about the hard knocks of the working world, about sports and about what it takes to make a tune - that catches fire - and yes Toby- we certainly like you now, and probably would have liked you before your first recording contract....you have what it takes to make a country tune and leave us with a message or two about life itself, if we take the time to really listen to your wonderful music. All the best Toby, and hopefully you will one day hear some of my music....
John Kitsco, Songwriter