Extraordinary Musician and Songwriter: Bill Bourne
John Kitsco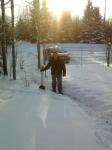 If you liked this post, check out more from John Kitsco.
Even doing a song by Gordon Lightfoot on a recent
album demonstrates Bill's willingness to take a risk and try something new and other times we hear Bill Bourne seemingly cry and almost yodel in a spiritual fashion. But those great licks on the guitar
quickly bring one away from spiritual places and closer to a folk style all his own. Although if you listen real careful the influence of Dylan is there as well as that of many great blues artists.
Bill likely started very young, perhaps age two when his parents would take him along to a country dance...
Do seek out the folky music of Bill Bourne and you will certainly come back for more.
My choice of a favorite song by Bill Bourne is the tune Voodoo King....