GHOSTS AND RESTLESS SPIRITS IN OUR LIVES
John Kitsco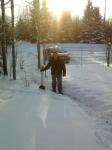 If you liked this post, check out more from John Kitsco.
There are places where, for example, someone was
murdered and the spirit remains, a place where a husband or wife cheated on their spouse and left the other - but in death the one left behind is observed in a window, or heard moving about at night....
Stuff of movies you say, our imagination - or perhaps it really is real?! Places where the spirit, perhaps that of an old dog remains. Or that of a horse, a ghostly white horse - that floats over the water, like a phantom. Or places like Derbyshire where after the bubonic plague - laughter is heard, the opening and closing of doors through the night...
I often thought (or imagined) as a child that I had heard some scraping in our basement. Could that have been a miner of the past, seemingly working in the mine shaft far below....working....ghostly miner....?
Is it possible? Well, yes I do believe it is very possible from some dreams and visitations I have had from friends and relatives of the past. And most
simply want recognition - to not be forgotten. So there is no need to fear those who have crossed over...
The spirits of the past might even be in your home,
a noise or nudge in the night, a shuffle, someone wanting to reach out and still be a friend perhaps...
After all, some day, each of us shall make the journey to the other side, to the unknown and in so doing find out for ourselves and maybe even become the voice in the night for our friends....
Respect life. Respect the after-life. All is good....