Emmylou Harris, Nancy Griffith, Iris Dement: great songwriters
John Kitsco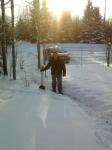 If you liked this post, check out more from John Kitsco.
Iris DeMent is truly a sweetheart, a January baby like myself and I just keep coming back to her special composition, Our Town which tells a story perhaps about small towns in general, tunes like
In Spite of Ourselves, a duet with John Prine, and for a singer-songwriter who started out at twenty-five Iris is loved and respected in the folk industry,
likewise is Nanci Griffith, another outstanding writer, one of my favorites: Speed of the sound of
loneliness, and of special interest when Nanci lost her boyfriend John in a motorcycle accident that inspired many of her great compositions. Nanci is a survivor of breast and thyroid cancer. And perhaps it is not only the good times but the troubled times that often brings out greatness in
songwriters. Emmylou Harris was probably greatly influenced by her Dad who was a prisoner of war in
Korea for 10 years. Emmylou has been a truly
outstanding singer-songwriter and continues to be...
And we hear the songs, but often wonder about how they came about. And there is still a time and place to write songs that tell a story and have a lasting influence on those of us, like myself, old folkies who never tire of beautiful folk songs. So keep writing Iris, and Nanci and Emmylou and all of you just starting out...if your song is good...perhaps you will hear someone presenting a special interpretation of your creation...somewhere, sometimes....