KOLE SCHMIDT, Young musician with big dreams
John Kitsco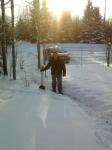 If you liked this post, check out more from John Kitsco.
I was (a songwriter in my retirement years) listening to a song that Kole Schmidt had written. I would ask you to remember this name, because just as I have predicted the success of many in the music industry, I am making a prediction that this young man- has that spark of genius -to make it. Sure he likes rock, sure he likes a variety of music,but what makes him a little different is that he has that drive,
that look of a young Buddy Holly, that look of a young man - reaching for that holy grail of musical success. And its certainly going to take a little time, get the music written, get the rights protection documents in place, still living at home on the farm with Mom and Dad and still ball games and some local jamming with a few bands before the magic of the industry waves the mighty wand that suddenly makes Kole Schmidt a household name. So I have agreed to offer a little advice, even co-write a song or two. So just maybe as this young musician moves up the ladder I get a kick at the cat with my co-written lyrics. You see, thats how its supposed to be in the music industry, this common respect and goodwill. We don't always agree on everything....but just maybe...we will find that one song....that will find its way to the top...just maybe....and maybe even
likely with Kole doing the music.
Watch for a future blog on new developments!!!!
As I stated, this place of grain and small towns is always searching for the next new name and new sound and I have this nagging feeling we are truly heading for the title Nashville North up here in
Alberta....and with that in mind wish Kole the very
very best working his way up the ladder of success...