SOMEDAY WE ARE ALL GOING AWAY
John Kitsco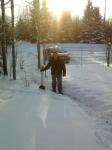 If you liked this post, check out more from John Kitsco.
When you think about it, and most of us are simply too busy to think about it, we are all going away someday. Some years ago Dad used to put it another way, and that is - that we cannot turn the clock back. So most of us prepare a little by the way of preparing a will. We try in the back of our minds to remember that things are not forever. The old car is doing to die, the old dog shall not be with us forever more and we are going to die. Sounds a little harsh, I agree. But its true. The road will and does come to an end. Just as we turn the pages of a calender, each day in its own way is turning our pages of life. Sometimes its a surprise from our doctor, sometimes its a motor vehicle accident, sadly there are those who elect taking their own lives. But most of us just go about our business day in and day out until the big bus arrives. We have seen it in the movies, and Hollywood makes it look grand, showing people as angels looking back on their own lives. And is that how its going to be?
Do we get to be present for our own funeral?

Almost a morbid subject. Leave it to the family to worry about what happens in the hereafter. Leave it to the priest or rabbi. Leave it to the neighbors and friends to deal with our going away. And they will and they do,

And just as the road reaches a bend, just as the day reaches an end, so goes the pathway of life. In the meantime, for the simple fact that life is indeed so very brief, we must simply make the best of it, even when we get a sampling of the worst of it on our bad days. Then and only then, will we be given the opportunity to truly understand and accept that all the brightness turns to dark, and in the darkness of life we shall find the light...

But for the moment, we live. And life can be all the things we want it to be, mostly sharing it with those we care about and reaching out constantly for all this is good and pure and enduring...until the road of change takes us home...