Sex, sin and St. Augustine
John Kitsco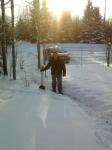 If you liked this post, check out more from John Kitsco.
Sometimes in order to look ahead, we need to look back. A young, intelligent friend of mine recently remarked...you know, most people turn on the computer to get access to porn...? Could this be true?

Let us take a look at the matter and subject of sex and sin as seen through the eyes of St. Augustine...who was perhaps quite caught up in his own sex life...and a busy life at that...years ago...

In a lecture by David Hunter, Phd. called:
Sex, Sin and Salvation - What St. Augustine really said...Hunter writes in book 8 of the Confessions
that Augustine portrayed his state as one of moral
paralysis,a lack of freedom brought on by the
accumulation of his own choices. He offered the following analysis of his predicament in terms that
approach a modern understanding of sexual addiction...

...St. Augustine says...I was bound not by an iron
imposed by anyone else but by the iron of my own
choice. The enemy had a grip on my will and so made a chain to hold me as a prisoner. The consequences of a distorted will is passion. By servitude to passion, habit is formed and habit to which there is no resistance - becomes a compulsion. By these links, as it were, connected one to the another (hence my term, a chain) a harsh bondage held me under restraint...

Hunter goes on: Augustines account of his apparent
inability to give up his sexual activity illustrates a crucial aspect of his thinking on sexual desire. As Augustine interpreted it, his desire for sex had become the point of his resistance to the will of God.

Interesting, as St Augustine described it, the real problem was the conflict within him of two different wills - a will to love and serve God wholeheartedly and will to love and serve only himself - or as in the words of Paul -"the lust of the flesh against the spirit and the lust of the spirit against the flesh."

Can we read and study and learn a little something from St. Augustine that just might apply to the proliferation of sexual activity in 2012? Or have many folks become a prisoner of their own addictions...? It is after all, about making choices...
and of our vision of our power to change....lest we remain bound and held, in our own prison..both as the warden and the prisoner, at the same time...