ROCK STAR BRAD KROEGER OF NICKLEBACK SPOTTED UNLOADING TRUCKS AT QUEBECOR PRINTING IN EDMONTON,CANADA
John Kitsco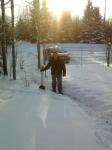 If you liked this post, check out more from John Kitsco.
But to announce your own death at age 40 (you
are presently 38) isn't that a little extreme? I ask you, have you not heard of the power of change?
Ok, we know a few things about rock star
Brad Kroeger and they are: 1) He is truly from
small town Alberta, 2) He (Brad) has the biggest collection of cars and girls (uh-ha) west of the rockies and last of all 3) He (Brad) knows three chords on his electric guitar (just kidding!!) -
There are stories circulating that Brad Kroeger owns a mountain sized home with an olympic sized pool and that he greets each day with a holler as he flys on a rope (just like Tarzan) over his pool...
Fact is, the man packs them in at all the big concert venues (those larger than an Olympic pool), he has jammed with the bearded boys of Texas, (y-u-p, that would be ZZ Top) and some folks dispute the recent information that Brad was seen unloading large trucks at Quebecor Printing in Edmonton, Alberta...
Ah, what day did you plan to leave this planet, Brad? Just curious....