JUST ME AND THE OLD DOG SITTING BY THE TABLE
John Kitsco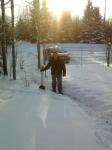 If you liked this post, check out more from John Kitsco.
We get old. Our fury friends get old. They stay by us and sleep a little more and eat a little less, just as we do but maybe appreciate simple things a little more rather than a little less. Ya, those simple things like giving the old dog an ear rub or a neck rub, or running around the house like a big kid with the dog not far behind. Its all fun. Its all good.
And now look what you done you ole dog, you got the ole blogger to write about old men and old dogs. And say what....
You want a few more mashed potatoes??
Ok, I am getting there as fast as these old feet can
travel....
And the night lets us know we are both getting tired, this old man and his old dog and sleep is not far away...is that Mother I hear snoring all the way to the living room....? No matter, its just us Sandy,
just us night owls trying to figure out a few more things as we journey into the senior years of our life...and its always good, an old man, with an old dog...