MEMORIES OF ANOTHER HOTSHOT TO SASKATCHEWAN
John Kitsco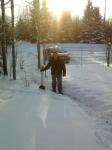 If you liked this post, check out more from John Kitsco.
Saskatchewan have come to an end, not that I was unable to continue - you just seem to know when its time to pack it in....
But just as though it were yesterday, those trips are as fresh in my mind as ever. Long pipe, valves,
skids with a variety of parts, destined for places like Kindersly, Regina, Kerrobert,Kamsack,
Moosomin, Prince Albert. And there I was with
some country radio station blarin Waylon and Willie and my truck humming along, on occasion dodging deer and even a lonely fox or porcupine.
Stopping for another coffee and something to munch on, other trucks gathered at a rest stop,
other truckers feeling age and time creeping up
on them as well, just another trip, yes, just another trip...favorite cap resting on the dash, cruising along winter and fall, summer and spring. Some
trucks offering a friendly four way flash when you
let them speed along, trucker to trucker, hello,
goodbye. And getting out to stretch legs under a
full moon, glance over the miles of fields and flickering lights of a farm house, maybe folks just getting ready to hit the hay, roaring down dusty
gravel roads trying to figure out the handwritten
directions to a small plant or rig site. Those on site
sometimes waiting with a warm coffee in hand, another hurried hello, goodbye, good to see you, have a safe trip home...
Yes those beautiful memories of Saskatchewan when most folks were sleeping - and there I was fighting sometimes to stay awake and make another hurry, rush, hotshot delivery.
Good night Saskatchewan. So good to have made
your acquaintence...