A STORY A CAB DRIVER SHARED WITH ME
John Kitsco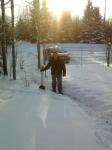 If you liked this post, check out more from John Kitsco.
Ottawa is a wonderful city. Not just the fact that
major decisions are made here but its a city close
to the great lakes, with a lot of history...

I had arrived in Ottawa some years ago to attend a seminar on multi family housing. A tired looking cab driver hollered and asked if I needed a ride. I
carried my luggage over and the journey began towards the hotel. During the trip the cabbie seemed to want to share some of his life experiences and stuck in the cab I was forced to be a good listener. Besides, everyone has a story.

The cab driver spoke of meeting a lady of the night
and even though he was married began a long series of meetings with her. Before long he had lost his home, his marriage failed and he was not only
working out of his cab but whenever he had the chance...sleeping in the cab....his new home. And his visits continued with the escort until for reasons unknown she had suddenly left Ottawa. The cab driver said he was devastated. He felt the lady was more than a one night stand, but someone who would listen to him...and yes....take his money.

Finally we arrived at my hotel. I wished the cabbie good fortune and hope his life would change for the better. But that change would have to come directly from himself. And what is sad, his actions
resulted in loss of home and marriage. And left
with a driving job and a life that would best be
described as the closest thing to homelessness.

Which brings to mind the saying, careful what you
wish for...you just might get it...