Should I tell Lisa Marie Presley to keep her day job?
John Kitsco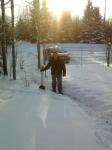 If you liked this post, check out more from John Kitsco.
latest effort called Storm and Grace, her latest and third album coming out after a five year dry spell so to speak...might have some spark...just that
when I listened to her 2003 (1st album) the stuff did not grab me at all.
So maybe this time is her chance to shine. We shall wait and see...because it seems Lisa was not overly inspired with some of her recent material.
Its gotta be tough to follow in the footsteps of a Dad who was truly the King of Rock and roll.
But we do wish you good luck Lisa, but as they say
don't give up your day job, just yet...