DO YOU PLAN TO GET INTO THE MUSIC BUSINESS- well, keep your day job!!!
John Kitsco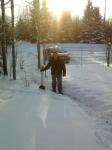 If you liked this post, check out more from John Kitsco.
Yes indeed, I have been foolhardy, going right direct into the palatial offices of a major record company with a single, recorded in a twenty four track studio, as was the case way back when, and
sitting down with the president to let him have a listen. "And where- he said-are the other records..."
Gosh, that was back in the 70's and I drove down
Yonge Street in Toronto, dropped into Boot Records and a few small labels. I was young and foolish indeed. You needed more than a single and it was not by any means top forty, just a simple country tune put together quickly (called Pretty Little Sunshine Girl) and surprise, the record company liked it. But without other songs to compare, it died a slow death after a little bit of airplay in Toronto, Edmonton, and possibly Nashville. Trouble was, I was new and very naive to the business and co-wrote the song with Rick Brown, had Rick sing along with a couple of girls doing the do-wah type back up and a decent band of some professionals who could probably have backed up just about anyone. Still,not good enough. Just made enough to cover costs of paying the studio and musicians, making up labels for the
record, having a small company press a couple hundred copies and getting these off to radio stations and friends. And yes, it was fun. But not good enough. So now, you can go to Soundclick and click on my name and listen to Rick Brown and the Studio band play this song and the B Side
called Whoever Said (written by Rick Brown).

The intention was simply to give the music business a try and the costs were there and unless you were prepared to sink thousands of dollars more into the project which I did not have....the buck stopped there.

So fellow song writers, give your project careful consideration and make the decision of whether it is (or not) worthwhile to pursue in this huge wasteland of music writers, singers, producers, labels and all those persons who can make or break a project....before it even begins.

Did I learn a lesson? Absolutely. But was it fun?
Absolutely. So remember, do have a listen, the song is available free....thanks to the web site,
Soundclick and others like it that like to help songwriters, past and present. Music is, was and always shall be a family affair...so don't get a broken heart if you did not succeed...just try to have fun with your project. If music is not fun -
you are in the wrong business...