John Kitsco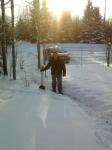 If you liked this post, check out more from John Kitsco.
Behnam (the father) was a gifted artist and once contributed to the creation of a poster which showed four doves flying above the earth...created for an Interfaith Centre. The newspaper described
Behnam as a design consultant and a very good man. So sadly ironic how the young family loved Banff and Jasper, spending time outdoors, taking the young children hiking, skating and skiing. And just perhaps that was the reason for taking this more dangerous route. Mountain drives this time of year are always dangerous even for the best drivers. Behnams wife was noted to be a kind and loving wife and mom...who with her grace and elegance always made people around her feel special...Shirin lit up a room when she walked in...
The little children, Daniel -only 6 and growing up to be like his Dad, polite, enjoyed shaking hands of visitors, and little 3 year old Delina described as a little darling girl, with lots of energy.
Father. Mother. Son. Daughter.
Never to be forgotten by family and friends.
The unfortunate brevity of life, a light that shines for a time and is gone. To this young family our prayers and thoughts and love.....