A SILENT KILLER STALKED US TODAY, AT THE COTTAGE
John Kitsco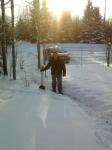 If you liked this post, check out more from John Kitsco.
Our first clue was when the very old carbon monoxide detector let out a bleep. When the noise happened the 2nd time, my wife did not waste any time calling the 24 hour hot line of the local gas company. When the gentleman arrived we were told, yes, high concentration of carbon monoxide and it is coming from the furnace
Cold weather is here. Don't play around with a furnace that needs maintenance or a carbon monoxide detector that is old and needs replacement. Life is precious. Be diligent. Call for help quickly if you detect a problem.
Carbon monoxide is colourless, tasteless and a very toxic gas, known as the silent killer. Don't let it get to you.
Just a thought, have your furnace serviced before the weather gets cold, keep numbers handy of not only police and ambulance, but fire department and other important numbers.
You do not want the silent killer at your home!!
Be safe, be diligent and if you feel something is very wrong, don't waste any time...make the call...
save a life, it might be your own.