Tim (Dexter) Treadwell: 1957-2003 and a story of the Grizzly
John Kitsco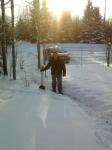 If you liked this post, check out more from John Kitsco.
During some of our own travels into the Rocky Mountains we have seen Grizzly at a distance, camped in Kootenay Park and had black bears nearby throughout the night. Near Slocan, B.C. I had an encounter with a very large black bear and fell over the edge of a small cliff, clutching my camera and ended up with a few scratches. I respect bears, and keep as much distance as possible.

This was not the case with Tim (Dexter) Treadwell who camped in Alaska for 13 summers. Tim had a fascination with
bears and would even touch them.
Camping near the Katmai coast of Alaska, Tim would refer to the area as "the Grizzly Sanctuary."

Unfortunately, on Oct 2003 Treadwell and girlfriend Amie Huguenard camped near a salmon creek and the bears were starting into hibernation.

When Pilot Wily Fulton flew in to pick them up
it was too late. A mean old grizzly had killed both
Tim and Amie.All they found was the disfigured head, mangled body, partial spine and hand with a wristwatch still on it. Amies body was found partially buried under twigs and dirt. A very tragic
end to having spent 13 summers with the grizzlies.

Wild life experts tell us that bear attacks are actually rare and the reasons are for predatory,
territorial or protective reasons. We will never know why the bear killed Amie and Tim. But we
shall remember these folks. Although Tim at times may have hated civilization and even fellow humans - he made every effort to understand and live with the grizzlies, and his legacy lives on with
his book about the Grizzly and video footage from the movie, Grizzly. Tim knew the risks and took many chances to swim and walk with the Grizzly.
Perhaps this was his way of coming to terms with his own life, troubled at times. But nonetheless he leaves us information that is thought provoking and for that reason I wanted to bring you this blog. By no means would I encourage anyone to emulate what Tim Treadwell did - although in retrospect we must look back with some amazement of how he spent his 13 summers with the Grizzly bear in Alaska...