Local Man Makes National News For Good Deeds
By Betty H
Published 06/9/2009
Rating:
Betty H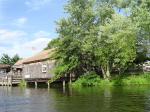 If you liked this post, check out more from Betty H.
A Pittsburgh man is making national headlines for his weekend of good deeds.

He posted an ad offering to help people.

All he asked in return is that they pay it forward.

"What I did was put an ad on Craigslist asking anyone if they needed help and decided I'm going to give my time this weekend," he said.

The man, who wants to remain anonymous, videotaped his story and posted the video on YouTube.

He randomly chose Chicago to do his good deeds. In his ad, he said, "I can help you with groceries, give you a ride, help around the house or yard. I don't want anything in return. All I ask is that you pay it forward, help someone else in the future."

Two weeks ago, he loaded up his car and headed to Chicago.

First stop, he delivered a car battery to a man who, without a working vehicle, couldn't go to the various side jobs he was taking to make ends meet.

Mission #2, give a man a ride to pick up a truck.

The man had just purchased the truck to help him clean up his home which was damaged in Hurricane Ike last year.

Good Deed #3, clear out debris from a demolished bathroom.

That was the end of day one.

On day two, he made a stop at a Chicago homeless mission where they were making sandwiches for the less fortunate.

Our local Good Samaritan donated a pile of his old clothing.

His fifth and final good deed of the weekend, tear down an old swing set.

The job became a lot easier when the grateful truck owner he had given a ride to the day before showed up to help out, keeping up his end of the bargain to pay it forward.

The Good Samaritan put more than 1,000 miles on his car, spent about $750 of his own money.

He calls it the best weekend of his life.