SOME THOUGHTS AS WE END ANOTHER YEAR
John Kitsco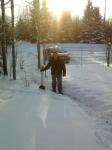 If you liked this post, check out more from John Kitsco.
But remember that God made you in his image and we all need to look in the mirror and take heart that the person looking back is the one we need to spend the rest of our life with. Yes, we are who we are and what we have we shall need to make the best of. Life need not be complicated or difficult unless we make it that way. So back to that KISS formula, just...Keep it simple.....
Whether our glass is half full or half empty is no reason to be discouraged, there are always those who are in a much worse place or condition and to those we pray - that you will look ahead, see the light and the hope. Yes, there is light in the tunnel and that is the tunnel of life where we must all pass until the last spark, until the stars shine to remind us that others have walked the same path, faced the same difficulties and strived to have hope,
as we all do.
Merry Christmas world!! And may we all go forward into another year with a warmth in our heart, a smile on our face and a glimmer in our eyes and a reminder to give thought to those less fortunate this time of year.