John Kitsco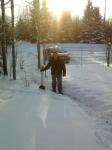 If you liked this post, check out more from John Kitsco.
In the case of one D.B. Cooper, here was a man who took some $200,000 cash, and jumped out of a 747 airplane, some 40 years ago. The money has not been found. Yet Cooper (otherwise possibly known as William Gossett) died with the secret of the missing money intact.
And amazing that prior to the death of Cooper (Gossett) - during a father-son visit, the father pulled a photo taken by the FBI out of a locked drawer, showed his son and asked him if he thought Cooper looked like him?
To this day, someone has a key, and the money possibly sits in a safety deposit box in a district of Vancouver known as Chinatown.
This brings back memories of the great railway heist and others where men and women dared to risk their lives and future....on money......
Was it worth it? I think not, when you read about the lives of these people, possibly living in the fast lane for a little while, until the truth catches up...and it does....for everyone.
And I do thank the Canadian Press for bringing us this story.....