ARE RESTAURANTS DOING A GOOD JOB?
John Kitsco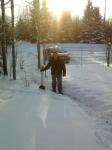 If you liked this post, check out more from John Kitsco.
I am like most of you, taking a chance, walking into an establishment and placing an order. What I do not see
are those who prepare the meal. And there have been a few
cases of shabby preparation, poor storage and simply nasty
habits.

Our daughter is recovering from food poisoning and can think of
at least two places before she became seriously ill. Thankfully to
quick action by our family doctor, she is very slowly moving toward recovery. But that nasty thought remains....where did this
all start?

We live in a time where eating establishments are forced to rush,
and inspectors cannot be everywhere all the time. It would be
foolish to put the blame on any one thing. There are several
issues. Thankfully some newspapers now publish stories that reveal why a particular place was forced to close or temporarily
close until problems were dealt with.

Even food preparation in our kitchen must be subject to our own
review on occassion, we must ask ourselves if we have the fridge
cold enough, if our food was cooked long enough or whether we
are placing too much faith on that little microwave sitting in the
corner...

We read about food that might cause cancer, we read about the
benefit of salt one day and the danger of using salt the next. We
read about bottled water vs tap water. We read a great deal about
matters of food, food supplies, food supplements that in fact
allow us to stay young and thin and with better stamina. And soon
we recognize we should use our own judgement and decision making, such as inspecting for ourselves the restroom of any
restaurant, looking around, are there unclean tables, garbage on
the floor. And asking ourselves: Are we sure we want to eat here?

Yes and no. There are no real hard and fast answers only to hope
that we feel as good and cheerful after the meal as we felt before.

In the meantime, our daughter (who has worked in a few
restaurants) shall be thinking about these things more than
most of us as she continues to improve.