John Kitsco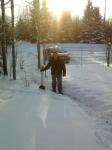 If you liked this post, check out more from John Kitsco.
The community of Slave Lake, Alberta shall never be the same.
Folks who lived a quiet rural life, suddenly with only the clothing
on their back. Many losing not only homes, but personal things,
and that hurts. Some not insured. Others suddenly at the mercy
of friends and family.

I recall a winter drive to Slave Lake and we stopped along the
highway to give our doggie a break. It was bitter cold. Perhaps
40 below and everything seemed to be frozen in time.

The fires around Slave Lake have burned about 19,000 hectares
of land. At this writing, about 72 wildfires burn in various areas
of Alberta.

Entire neighborhoods reduced to a pile of rubble. Truly amazing.
Yet I know the folks will somehow come back and support the
community. Thats just the way it is in the north.

In the meantime, Canadians have opened wallets and homes
and spread the word that help is out there.

But still, it can never be quite the same. Our prayers to the folks
of Slave Lake, Alberta.