MIGHT I NEED A RAINCOAT FOR MY TEARS
John Kitsco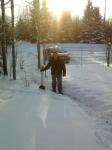 If you liked this post, check out more from John Kitsco.
Yes Mom, some place faraway perhaps you hear the voices of your children, in a quiet manner, letting you know, how much we
miss you, especially in the spring....and how we love you...

We know how you cherished the light of spring, the newness of
a new beginning, the times when things begin to grow, and we
remember how you loved to bake, and take an early step into
a new day - just to feel the love of the land, the quiet awakening
and rebirth of another season, the snow that turns to water,
and I begin to wonder if I shall need a raincoat for my tears...

How you loved to place the garden seeds gently into the soil,
getting us kids ready for the next day and the next...
and now without your voice to guide us, we fumble about
so wanting to have you near but cannot....as time as taken you
to that garden of love, to again hold hands with Dad and look
back and look down perhaps at your children, as we too now
embrace this season of change, this time when we must only
guess at the advice and love you would share....but we feel
your presence. And how I want to take fresh flowers to your
grave and try to speak and say what I probably cannot...
as tears will again stop me in my tracks....

Might we ever rise to that special stature you attained with your
bright smile? And that special wisdom in your eyes?

Oh, how we miss you in the spring Mom... its 2 A.M and
I just cannot sleep. I say a prayer and cry on my pillow....
until sleep beckons me....goodnight Mom.....