Jenn Apple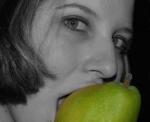 If you liked this post, check out more from Jenn Apple.
I wanted to pop in & give everyone an update...
So far, I'm down 11 pounds. I lost an over all 5.5 inches off of my body, and I am feeling much healthier.
I still have 35 pounds to go, and I must admit that I do get discouraged at times...but, I'm still going strong. Just went to the gym today, in fact! :o)
Tonight The Biggest Loser was on, and MAN is that show an inspiration to me! To see where those people have come from...to see what they have overcome! Wow! Thank you, Lord, for that show!
- - -
"Your attitude, not your aptitude, will determine your altitude" ~ Zig Ziglar
- - -
I hope & pray that you all are doing well! That your days are blessed beyond measure!
I will blog at least once a week...I promise not to be a stranger anymore :o)
Blessings! And, Happy Belated Mother's Day to all of you wonderful ladies!