I found a hero in the most unexpected of places today.
Olive Green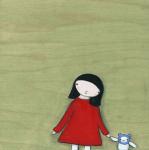 If you liked this post, check out more from Olive Green.
I kinda have a thing for ducks, when i was younger, my brother and i helped our neighborhood ducks protect their eggs on the side of our family home, and we were there to help them raise the ducklings to adulthood. We had names for all of them, and i had a special connection with one in particular, Munchkin. She would follow me everywhere i went, swim in my pool, and even sit relaxed in my lap while letting me hold her, the neighbors were amazed.
In the middle of what seemed to be the ducks lunch, a frantic woman who worked in the car detailing center came running towards me and the ducks, hands wailing and all. She was giving the ducks a lecture on how not to leave the back area ever again, while trying to herd her feathered friends back home. She was telling me that there were 3 families of ducks that live in the back of the lot where she worked. She cared for them and loved them like they were her children. She feared they would get hurt in the parking lot, so she was trying to bring them back to safety.
I stood there in awe of this woman. I had just witnessed an act of kindness for animals i thought was so hard to find. I found a hero in the most unexpected of places today.