To be loved & cared by someone
Published 03/17/2010
Rating:
santhosh kumar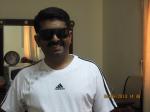 If you liked this post, check out more from santhosh kumar.
Its four days now since i 've been laid down with fever,cough&cold.
Today is the fifth day and iam feeling much comfortable now.What would have happened if i was alone during these four days?It is during these hard times that you want to be cared & loved by someone.Each time when i write a blog,my wife asks me "Is that about me?"But this one is for you , my sweetheart wife.You have showered me with love,care.....during the hard times and made me feel so important.