Thats how GOD thinks!!
Published 03/15/2010
Rating:
santhosh kumar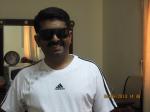 If you liked this post, check out more from santhosh kumar.
I was laid down with fever,cold &cough for the last few days and now recovering slowly. Yesterday at night and tired of sickness when i was about to sleep i thougt "Usually i think about GOD umpteen times a day and for the last few days when i was laid down with fever & cold , i didn't think about HIM for long."Suddenly my conscience (May be on behalf of GOD) spoke to me "Mostly people think about ME at their bad times and forget about me during their good times, you are one among the few who thinks the other way around"