"If he can do it, I can do it"
By Maggie B
Published 06/28/2009
Rating:
Maggie B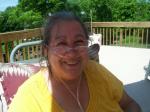 If you liked this post, check out more from Maggie B.
That man's words stayed with me throughout my working life.Whenever I faced a new challange, I would think about those words. In time I managed a very busy restaurant. When someone was new and nervous, I would repeat the advice given to me. I always repeated the story of when I was new and scared and how his words gave me the confidence I needed that day.
What's really nice is that one day I got the chance to meet his family.. The man was in a wheel chair and was almost blind. He had been a steady customer and when he stopped coming in, I wondered if he was alright. I stopped to say hello and tell them how he had made such an impact on my life and in turn, the life of others. The family proudly smiled. I got a chance to thank him and tell his family how much goodness their father had given the world.