Exercising The Face & Heart...
Jenn Apple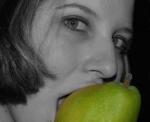 If you liked this post, check out more from Jenn Apple.
I've always hated going to other gyms in the past...some seemed more like "meat markets," some like "people watching arenas," and some "muscle competition centers." This gym, however, is a perfect fit for me! People are nice there...accommodating...and, I don't feel "watched."
Today, for instance, I was greeted with a smile & a "hi...how are you?" as soon as I walked in the door. And, it wasn't a forced or programmed "hello"...it was one where the person made a point to reach out to me. And, at that moment, a fun thought passed through my mind...why NOT smile at the gym? After all, we should exercise our face muscles too :o)
"It takes a lot of work from the face to let out a smile, but just think what good smiling can bring to the most important muscle of the body... the heart." ~Author Unknown
Personally, I try to smile at everyone that I see. If a smile can make such a great impact on my day, it makes me hopeful that my smiles do the same for others.
"A smile costs nothing but gives much. It enriches those who receive without making poorer those who give. It takes but a moment, but the memory of it sometimes lasts forever. None is so rich or mighty that he cannot get along without it and none is so poor that he cannot be made rich by it. Yet a smile cannot be bought, begged, borrowed, or stolen, for it is something that is of no value to anyone until it is given away." ~Author Unknown
I hope that you all have a blessed day! And remember to use those face muscles :o)